Good health is a gift—and one that must be nurtured, curated, and cultivated.
Our Story
Our founder, Nancy Chang, discovered this truth firsthand when her mother was diagnosed with cancer in 2006. As Nancy supported her mother through the highs and lows of chemotherapy, the importance of nutrient-rich foods became all too clear. Over time, it became difficult for her mother to eat solid foods . . . and so, the search for soft and/or liquid nutrients was on.
Then, a family friend changed everything with a beautifully crafted broth. Nancy's mother, delighted with the gift, said, "I can't wait to eat this — I know it is going to be good for me."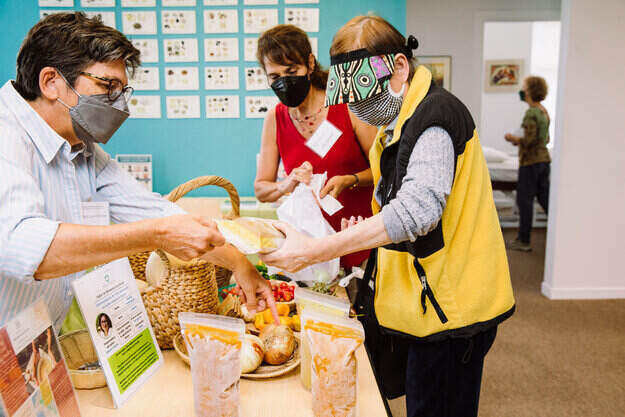 How We Became Purpose And Hope
This is the idea upon which Purpose & Hope was built. We all long for lovingly-prepared and strengthening foods, no matter where we are in our individual health journeys. That's why our menu items are handcrafted as an expression of love and healing.

There is a tangible link between food, the body, and the soul. In the Purpose & Hope kitchen, that link is fostered to encourage complete well being.

We consider it our privilege to serve our Bay Area community with our healthy home delivered meals.


See What People Are Saying
Tinrin Chew, RD, CSO

Registered Dietitian, certified in Oncology

"When I took the first bite of Nancy's soup, I knew that I was eating something so good and nourishing; I could not stop. I called it soup made with love from the heart. Nancy's soups are gentle in flavor yet rich in substance, delicious, comforting, nourishing, and simply divine."

Locally Sourced And Holistic Practice

Christine, WCRC staff member

"Women's Cancer Resource Center's clients are nourished body and soul with these wonderful soups. We are grateful for Nancy for helping us feed our community." 

Dr. Mary Lynn Morales, LAc, DAIM

Medical Director, Charlotte Maxwell Clinic

"At the Charlotte Maxwell Clinic, we offer support and services for low-income women with cancer. Our clients are in need of easy, nutritious meals. Your wonderful soups are an important addition to the organic produce and hands-on care we offer.

Every week, it is a pure delight to see the joy in our client's faces as they get to take home your delicious and healthy offerings. One client reported that she felt like every sip was nourishing her on a deep level."

Hwee, a WCRC client

"I get a very warm feeling after consuming the soup, a loving kindness that is sent to me."

Meryl, a WCRC client

"Thanks to Nancy Chang & her company, Purpose & Hope, for creating such an exceptional product. We look forward to trying all the soups because each one has been even more wonderful than the previous one."

 Eve R., Oakland, CA

"I have [Purpose & Hope] soup everyday with lunch. I enjoy the fresh vegetables and amazing spices. Nancy even offers a wooden spoon that increases the spice flavors once they hit your tongue."