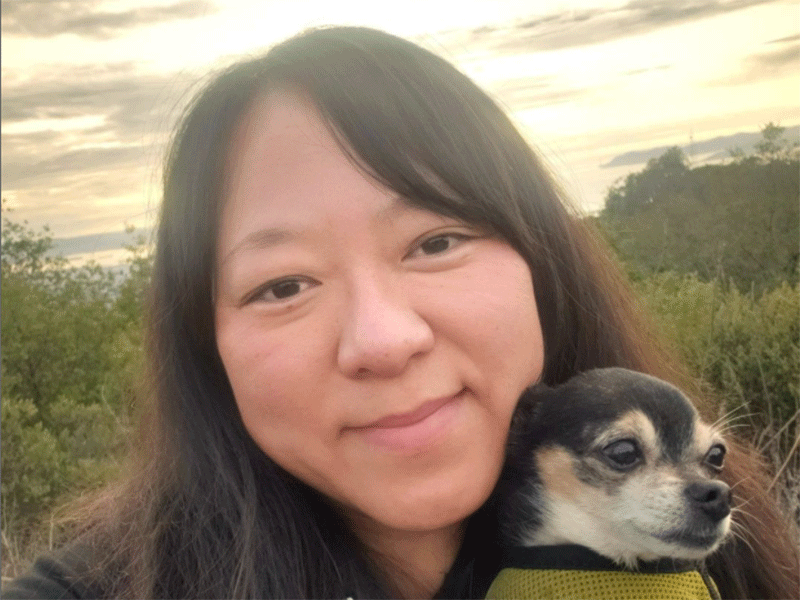 NUTRITION CONSULTANT PROGRAM GRADUATE AND FOUNDER OF PURPOSE & HOPE FOOD, NANCY CHANG WITH YOGI
Nancy Chang is a graduate of our Nutrition Consultant Program and the founder of Purpose & Hope, a soup delivery business. Read more to learn about Nancy's inspirational story that led her to create nutrient-dense, healing soups for the community.
My Bubble of Ignorant Bliss was Broken
The journey of starting Purpose & Hope was one that took much longer to come to fruition than most businesses. Back in 2006, I had just moved to the Bay Area. Three months after moving here, my mom was diagnosed with cancer. At that time, I was in my mid 20s, and barely learning how to navigate life itself. Being struck with that level of reality was new for me.
Growing up, I had been a vegetarian, but ate mostly bread, cheese and french fries. I was disconnected from the foundations of nutrition in my daily life and was blind to caring for myself in this way. It wasn't until my mom's diagnosis that my bubble of ignorant bliss was broken. I traveled back and forth from Oakland to Albuquerque every month to be with her while she went through her chemotherapy treatments, and I watched her body change.
As her health deteriorated, I saw her in complete misery trying to ingest nutritional drinks and eat hospital food that lacked any sense of pleasure or nutritional value so that she could be strong enough to complete her treatments. In retrospect, it was the first time I felt palpably disempowered to help my mom beyond being there by her side.
Two Distinct Occurrences Opened My Eyes
It wasn't until two distinct occurrences happened that opened my eyes to the path that I am on now. The first was when my mom was staying in the hospital and a friend of hers, a Buddhist nun, came to visit and brought her a container of this beautiful vegetable broth. The gentleness of the color and the intentionality behind the ingredients she selected piqued my interest.
When my mom asked me to bring the broth to her, she said, "I can't wait to eat this. I know it is going to be good for me." In that moment, those words made us both feel as if there was something we could do to positively contribute to her health. I wanted to replicate that feeling for her and started gaining interest in cooking.
The second occurrence that opened up my eyes to the necessity of creating my service was when my mother was in Houston for a bone marrow transplant. Because we were there for an extended amount of time, we eventually joined a residential community of oncology patients and their caregivers. It was such a tender experience being in that environment and making friends with other families who were all faced with a similar challenge. When my mom and I would go shopping together, we would look for things that we could cook and share with our neighbors, and we would always be surprised by being gifted by our neighbors in return. It was an impactful experience: The level of authenticity and care that was exchanged in this very special place left a lasting impression on me. This was a experience that fueled my appreciation for food as an expression of showing love and care.
I Wanted to Give Back to This Community
After my mom passed in 2008, I knew that I wanted to give back to this community. I started exploring business planning classes and taking classes at Bauman College to learn more about holistic nutrition. My time at Bauman helped me see how broken and misguided our current food system is and how it contributes to disease.
I chose Bauman College because I believe in the wisdom of mother nature and an integrative approach towards healthy living. I wanted to create a food service that focused on a holistic approach to healthy eating. The offerings at Bauman College reflected the education necessary to provide a service that was insightful, science-based, and promoted optimal living through the foundation of quality, thoughtful nutrition.
Bauman College Gave Me an Understanding of Holistic Nutrition
Bauman College gave me an in-depth knowledge of holistic nutrition and anatomy, coupled with an understanding of the challenges people experience and how we can use the food that we eat to encourage the highest quality life that we can. It has influenced the way that I see the world, how I think about the ingredients that I use in my recipes–from how I use my oil to the salt I select–and it allows me to be confident that I am considering my approach and application in a way that amplifies the positive qualities of the soups we make.
I wish that the culinary world was centered around promoting health and longevity, but we all know that it's not. Bauman College is one of a few institutions that focuses on using ingredients thoughtfully and intelligently to create healthful, beautiful food–the kind that leaves you feeling good about what you put into your body–which can be transformative for someone who has not had this kind of a relationship with food before. I believe that the recognition of the toxicity of our food system is very conscious in our minds, but the options to access health-promoting food is limited. It is a great time to be in the forefront of this learning to help transform the way we will pass this knowledge on to the palates of the new generation.
At that time I was ill-prepared to start a business and was too afraid to break out of the conventional life path that was set before me. It wasn't until I met my mentor in 2018 that this dream resurfaced. I knew that my time working in a corporate environment no longer suited who I was or what I wanted to do in the world. He asked me, if I could do anything, what would it be? My buried dream came up in this conversation, and he encouraged me to go out and learn about what felt aligned with my vision. I began talking to people who were serving the same people I wanted to serve. This led to meeting the most incredible, big-hearted people who entertained my questions, each of whom assisted in the exploration that would bring me closer to my vision.
Bring Purpose & Hope to Life
When the world shut down and everything was thrown into the chaotic unknown of COVID, I lost my job and redirected my energy to learning as much as I could about business and entrepreneurship to try and bring Purpose & Hope to life.
Starting a business from a passionate idea coupled with little resources, there is a lot of personal growth and bootstrapping that is needed for anything to move forward. It is painful, both internally and externally. I am grateful for this period because it allowed me to access resources and time that I would not have been able to afford otherwise and allowed me to clarify if this was indeed a route I was willing to give my all to.
I Knew My Business Had a Place in the World
My dad was diagnosed with lymphoma during the height of the pandemic. I went home for several months last year to be with him after he had major surgery. In that experience I knew that my business had a place in the world; it was a reminder of how vulnerable we are when dealing with health challenges and how meaningful it is to have people who are interested in supporting you by their side when things are not easy.
I launched my business in the beginning of 2021 with the referral of a friend who needed help as she was undergoing treatment. I started my business underground and networked with some of the health professionals I had met along the way who then referred me my next handful of clients. It was a tricky time because the way that I was able to reach clients was severely limited but being in service to these first individuals allowed me to recognize how meaningful and reciprocal the exchanges were, which solidified my desire to keep pushing on.
What I love most about my career is that it is mission based in the core areas that are important to me. They are: providing nutritionally dense and healing soups for people in our community, addressing food insecurity, developing relationships with local, small businesses and supporting each other's success.
Build a Connection of Empowerment Through Thoughtful Nutrition
By getting to know my clients, cooking for them, shopping for them, and learning about their needs, I get to make observations and have conversations that inspire me to think of ways to use food as a vehicle to create comfort and solutions for them. Somehow, I get to serve the kindest people each week, which fuels my love for what I do even more. Although I started with the experience of my mom and then my dad going through cancer, I have discovered that there are many ways to use this inspiration to care for a wide array of people and build that connection of empowerment through thoughtful nutrition.
I feel such a sense of deep gratitude to have come through so many intersections, deep valleys, and unexpected wins to reach this particular intersection. Life is still filled with endless unknowns, but being able to actively participate in the creation of this service is truly the greatest, most gratifying gift I could ever experience. I look forward to finding what is behind the curtain of each new day.
Connect with Nancy via her website, purposeandhope.com, or on Instagram @purposeandhope